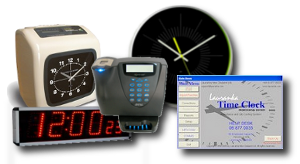 Quality, Cost Effective Time Management Solutions
Our company is committed to providing quality, cost effective Time Management solutions to businesses of all sizes. We are a service based company, our service department will service all brands of Time Recorders, Time Clocks, Punch Clocks and Time Management Systems.
New Dairy Farm time recording systems. more...
Maintain, Service and Repair Time Recorders
We can supply Service Contracts if required. We don't just supply - we maintain, service and repair time recorders onsite or in our workshop.
We offer a complete all round package for our clients. We are known for our outstanding customer support, unique and effective range of electronic time recorders and computerised time & attendance systems as well as our huge range of clock cards. We also can supply automated Bell Ringing Systems.