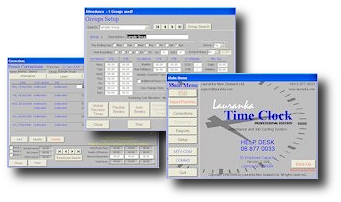 The Lauranka Time Clock Professional Edition system incorporates the Amano MTX swipe card Terminal and the Bioscrypt V Station. It combines this with leading-edge Time Management Software for complete attendance information for complete secure biometric system.
Lauranka Time Clock automatically calculates employee's worked hours taking into account such things as Rounding, Revision Times (shift start/stop times), Breaks, Overtime, Statutory Holidays, etc.
Lauranka Time Clock works by exception, only those employees who require adjustments are highlighted. These adjustments can be easily and quickly done via a user-friendly maintenance screen. All screens and functions have been designed to be easy to understand and intuitive to use.
Using our proven Lauranka Time Clock Professional Edition Software combined with one of our data collection options (Bioscrypt's V-Station FingerPrint Reader, Amano's MTX Terminal, and/or Punch at the P.C.) we are able to offer a logical and easy to use Attendance package, that offers all the features you would expect from today's Computerised Attendance Systems.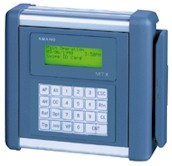 The MTX menu-driven terminal is compatible with the Time Guardian® and Time Guardian® PRO workforce management solution. It is utilized for many applications, from basic time & attendance to job costing.
Features & Benefits:
RS-232, RS-485 Serial modem, and Ethernet communications options
Numeric keypad with four function keys
128 x 64 graphical display
Supports mag-stripe, bar code, or proximity cards
Break/meal button
Download up to 500 employees and 10,000 labor level transfers for validation
Stores up to 20,000 swipes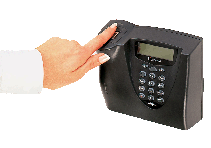 Bioscrypt V-Station
Strong security with multi-factor authentication combining fingerprint, cards and PINs.
Keep corporate assets safe and restricted areas secure from unauthorized access while quickly granting entrance to personnel with L-1 fingerprint reader solutions. Protect assets with multi-factor authentication using PINs, proximity cards, smart cards and biometrics.
Biometrics in combination with another factor such as cards ensures employees do not gain access through unauthorized exchange or misuse of unreported lost cards. And reduce administrative and human resource costs while quickly give employees secure access to restricted areas — it is as simple as the touch of a finger. Our solution offers:
Multi-Factor Authentication
Flexible options for single-, two- or three-factor authentication – all in a self contained terminal
Triple-layer security: Who You Are (biometric), used with What You Have (card), and What You Know (PIN)
All models come standard with integrated PIN pad to support 1:1 verification
Range of models with integrated card reader support MIFARE®, iCLASS™ or Prox cards
Duress finger option
Configurable User Base
Unlimited template storage for 1:1 verification when using smart cards
Store ~3,550 templates for 1:1 verification or ~500 templates for 1:N identification
Store up to 8,192 time-stamped transactions in terminal; capability to set schedules to auto upload to host
Configurable biometric verification schedules – turn biometrics on/off according to the time of day
64 scheduling options with 50 definable to accommodate a workforce with multiple shifts
Easy Installation & Use
Plug-and-play installation
VeriAdmin software for quick and easy initial set-up, template management and device/network configuration
Self-contained fingerprint unit performs enrollment and verification
Flexible communication options support Wiegand formats up to 64 bits
Multiple template administration options include device keypad, command cards for enroll and delete functions, or local or network connections through VeriAdmin
Ethernet capability (LAN)
Works with most standard existing access control systems